Chasons Music has
Developed a Valve Oil
Breakthrough.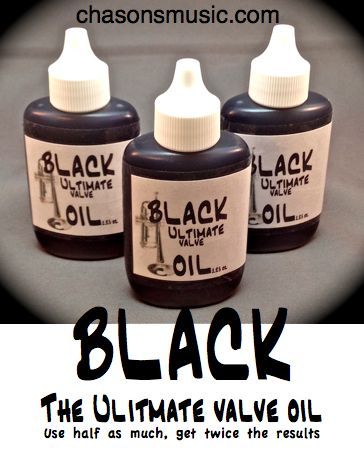 NOTICE:  BLACK valve oil is only shipped domestic.  We ship BLACK valve oil only in the continental United States.  We do not ship BLACK Valve Oil outside of the United States.
Black Valve Oil is a petroleum based ultra-fast lubricant.  Black has three synthetic additives which add to fast valve response, valve casing cleansing, instrument preservation and lengthened duration between applications.

Most petroleum based valve oils are fast but evaporate after only a few days.  Some musicians apply valve oil before every session.  Black Valve Oil, however can last two to three weeks between applications.
Black is a highly refined petroleum based oil with small amounts of synthetic additives which greatly enhances its quickness, cleaning, preserving and lasting properties. 

 

Black is very thin and extremely fast.  Chasons Music believes Black is a breakthrough product and the fastest valve oil on the market. 

Black works extremely well on stubborn valves.

Black has no abrasive graphite, alcohol or silicones.

Sold in 1.25 oz applicator bottles and also 1 Quart, 1/2 Gallon and 1 Gallon bottles.
Give Black Ultimate Valve Oil a try.  You won't be disappointed.

BUY NOW